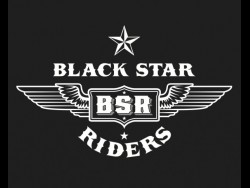 VIP Packages
Scott Gorham * Ricky Warwick * Damon Johnson * Robbie Crane * Jimmy DeGrasso
Here is a fantastic opportunity to experience Black Star Riders in a very special way. **PLEASE NOTE - VIP Packages DO NOT include a concert ticket. Every VIP package will include the following:
* 8" x 10" band photo ready for autographs
* Special VIP Members only T-Shirt (Please indicate sizes when you order the packages)
* Official Black Star Riders VIP Laminate
* Set of official Black Star Riders Guitar Picks
* Limited Edition Pin Back Badge of the band's logo
* Meet-n-Greet with Black Star Riders - get your autographs and photos
This package is for the show being staged August 3/14 in Helsingborg, Sweden at The Tivoli.


In addition, Ricky Warwick & Damon Johnson will host a very special acoustic set especially for VIP package holders. Here these songs as you have never heard them before. ** Venue Facilities Permitting **
There are a VERY limited number of VIP packages available for each show, so order your today!
PLEASE NOTE: Once you place your order, you will get an email closer to the show date with instructions about your VIP package. You will collect everything at the venue on the evening of the show. These packages will appear on your credit card statement under "Blastwaves".